1 Oktober 2018
Due to diplomatic entanglements on Kingoms I've only had time to collect reports from 3 servers today.
International
Hammers have been running and WWs have dropped. In a cooperation between VN, P.T and D.A.D (I'm told) the Ghetto WW had the hardest hits. VN is still standing still and the question is if they will have their lost Great warehouses up again so they can begin to build before the server ends. Probably, it's ~150 hours left if Ghetto haven't hammers left to take down P.T that is in lead.
Midnight yesterday
and in writing moment
Reports
Attacks on Ghetto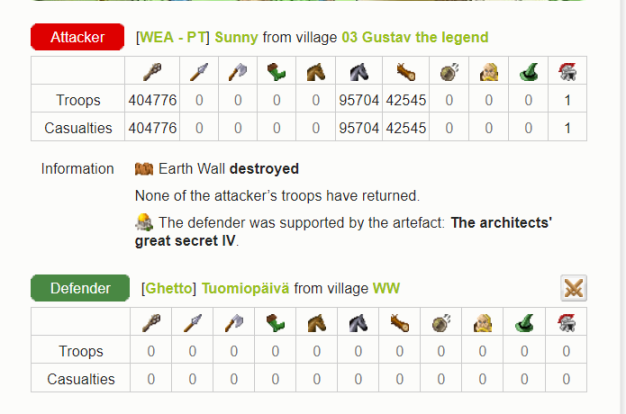 Attacks on P.T
Russia
Cerber not surprising still in lead, not many hammers runs that way. WINter is the most popular Cerber target so my prediction that they might be able to challenge Cerber was totally wrong =)
Midnight yesterday
And today
Reports
Cerber and BAD on adventures,  first on WINter and this is not all the attacks.
Germany
G&V still in top, most that lands here is garbage but I found one real! NB and SPQR concentrating on each other and natassa can continue to build – lol, so unexpected. SPQR down to 10 – aj aj.
Reports
It isn't all reports, I've chosed the biggest ones.
SPQR vs NB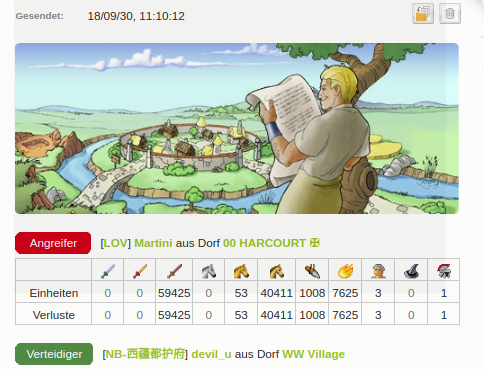 The only real I found on G&V
NB vs SPQR and NewOrder